Tessol Receives Fund from 1Crowd, Infuse Ventures and Ankur Capital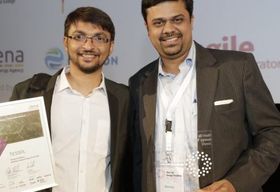 "We are excited about the rapid growth in TESSOL's range of cost efficient, high performance cold-chain solutions, which is bringing in new, quality-conscious customers across end-user segments.
We believe TESSOL's technology can, over the longer-term, aid significant reduction in losses in the agri/food chain from the current high levels," said Krishnan Neelakantan, Senior Director, Ankur Capital.

Till date, 1Crowd has forge 15+ investments for BioTech, CleanTech and NanoTech companies working in areas like healthcare, education, consumer, FinTech, and enterprise & deep technology and recently closes its first round of maiden venture capital funding. Established & supported by IIMA's Centre for Innovation Incubation and Entrepreneurship, Government of India's Ministry of New and Renewable Energy and Technology Development Board, IFC, BP, Godrej Industries, ICICI, SIDBI, BOI and Union Bank, Infuse Ventures succors entrepreneurs spread across renewable, resource efficiency and other sustainability domains whereas Ankur Capital endows in innovative business models (that mark key challenges for agritech, food, healthcare, skill development and education companies) created by rising aspirations and digital access for the next billion Indians.

Tessol was founded with the vision to reform cold chain distribution in the country (deploying its proprietary energy storage technology & solutions). These environmentally sustainable products and solutions minimize the lifetime cost of cooling by more than 50 percent, thereby making cold chain low value products. "Tessol is one of the very few innovation-driven cold chain product companies. With their superior energy-efficient technology, already adopted by many marquee clients across industries, the company is well-positioned to service the growing demand for cold chain infrastructure," stated Amber Maheshwari, Vice President, Infuse Ventures.

"There are huge gaps in the Indian food supply chain and while there are several cold chain products available in the market, there is a dearth of viable solutions. At TESSOL, we believe in partnering with our customers and working out system level solutions that can drastically impact costs while improving the performance," concluded Rajat Gupta, CEO, Tessol.