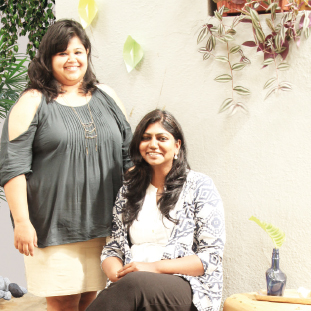 Moreover, while their frequent travels to remote locations across India to explore unique artisans deeply influenced them. These altogether fuelled their passion to zero in on a store that could sell furniture, lighting, interior décor products and accessories across different themes without making a hole in the customers' pockets. This marked the beginning of Boho-Studio.
A young collaborative venture, the journey of Boho-Studio, like any other start-up, was no less than a roller-coaster ride. "Running a business is altogether a different ball-game in comparison to working for an organization where your roles and responsibilities are defined.
Initially, we faced challenges in terms of understanding the market needs, creating product portfolios, sourcing of materials and marketing. However, as we seasoned in the market, every project, failures and interactions with clients, vendors and people had something new to teach us. We took client feedbacks seriously and worked on them, which gave us new dimensions in terms of business and operations," explicates Komal.

Boho-Studio started off as a store for décor products and accessories.
Eventually, it rolled out as a one-stop-shop for all interior designing needs. Seizing the best of the opportunities available, Komal and Imaya together with team Boho-Studio decided to redefine their business portfolio strategically to include larger services under the hood. At present, the company functions as an integrated design studio that provides services such as décor products, interior designing, styling, redefining themes, renovation projects, landscape designs and execution, turnkey projects and architectural photography services. "We not only focus on residential projects but are also actively involved with many top brands in the hospitality and restaurant brands across India," says Komal.

Out-of-the Box Thinking!
The fact that team Boho-Studio customizes each of their projects and blends in unique elements to make it distinctive - is what makes them stand out in the crowd.

Komal says, "While every project is a new learning experience for us, no two spaces witness the similarities in any aspect, be it the design, theme or the décor. We offer versatility and everybody has something interesting to look forward to for their living spaces."
The company's target audiences span from those who admire beautiful living spaces, those looking to create new ones, to those who want to add a new touch to their existing places.
Exploring ideas can be Fun!
Boho-Studio has garnered clients including Cafe Noir, The barge, Udupi international Chapter on, Brew and barbeque and Fattoush. The company began its operations in Bangalore and has now expanded the business to Kolkata, Mumbai, Chennai, Nagercoil, Hyderabad, Kochi, amongst others. "Shabnam Gupta of The Orange Lane and George John of RC Architecture have been our inspirations in terms of knowledge," she mentions.
Boho-Studio has garnered clients including Cafe Noir, The barge, Udupi international Chapter one, Brew and barbeque and Fattoush
The company is concentrating on optimizing its market presence, rationalizing its portfolio strategy and maintaining a stronger digital presence."Developing an online store to offer our products and accessories is what we are currently working on as a new business vertical. Further, we are looking forward to add strategic partners on-board to be a part of our growth-story," concludes Komal.