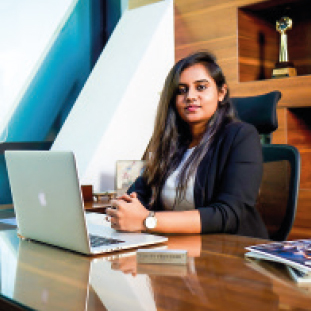 Born from the belief of creating to inspire and connect people, CuroCarte began its journey in 2015 with passionate and innovative change makers at the helm. "We didn't start with the bare thought of venturing into home décor space. We witnessed the talent, felt and sensed the strong presence of craftsmanship, the appreciation of which was dying. We being the strong supporters of Make in India &Makers movement, desired to add our touch by integrating it with contemporary style and presenting the creative talent on the global platform," speaks Kanupriya Verma, COO.
A platform known to be creative playground where makers meet the designers, CuroCarte acquired its initial learnings from other creative people with similar interests.
"The greatest impact our brand has made would be that we are no more being seen solely in the home décor segment but as a platform which provides a creative playground for designers, artisans and consumer in the lifestyle space," mentions Kanupriya.
The company wishes to reach to all the value driven customers, the conscious consumer who appreciates the value and sees the richness of craftsmanship, uniqueness of each design and understands that true luxury is to possess such handcrafted pieces. "The uniqueness of our brand lies in the variety of craft forms that we offer ranging across categories. No two pieces are same as they are handmade – we see imperfection also as an added beauty," she says.
Team CuroCarte is attempting to make rich craftsmanship more accessible to people and bring differentiated conscious lifestyle through experiences
Passionate and Innovative Change Makers
Everything handmade now is luxury in the world which is fast paced and dominated by machine made products. Team CuroCarte constantly works with designers and master artisans globally, studying the crafts, working with their beautiful imperfections, their precious process –enhancing these eventually to make it fit the need of today's consumers.
"For instance, for one of the indigenous crafts from India which was significantly being used to make utensils, drinkware&serve ware, we brought our knowledge, merged it with artisan's skill to create a new and improved process. Together, we explored this artform into one of a kind pieces which can be both used as décor and utility with enriched quality", she adds.

Being the Game Changer

While CuroCarte's products cater to living spaces; this is a new market – where there are independent designers who are bringing crafts to people. Team CuroCarteisattempting to make rich craftsmanship more accessible to people and bring differentiated conscious lifestyle through experiences, with a focus on bringing design, improved quality measures and infrastructure to the craftsmen community. Till date, the company has received a good response and has crafts from more than 9 countries including India. At present 70 percent of its products are from India and is reviving.

The team is also in the process of doing more design intervention with the crafts. "We strive to bring experts from the industry and intelligent pool of people who believe in our idea. We are passionate about creating a collaborative community of designers and craftsmen, and contributing to the Global Creative Economy" concludes Kanupriya.