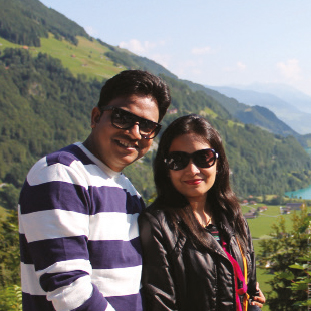 Atul Jain & Megha Jain - the husband-wife duo had a tough time while setting up the interiors for their new home. The reality struck when they had to handle multiple vendors, labourers, and carpenters to get the work done. In the process of executing it, they found that the home-decor space was completely unorganized. There were hardly any companies that provided hassle-free solutions to the customers. Hence, with the idea to offer a one-stop shop and comprehensive solutions to the clients in interior designing and modular furniture, Decor Dreams came into the limelight.
Founded in August 2013, Decor Dreams was started by Megha Jain, who is an interior designer based out of Bangalore. In June 2016, Atul, who was into the corporate sector saw an opportunity in this niche domain, quit his job and came on board to support his wife's creative endeavour to a whole new level.
The Bigger Picture
"The challenge relies on the acceptability & reliability of the modular work that we deliver to our end-customers," asserts Atul. Typically, the Indian crowd mindset is such that they want the work done under continuous supervision. Even at this day, people get their work done by local carpenters, procure materials from the local vendors, and acquire labours to get the job done,
which is cumbersome and time-consuming. It cuts customer's pockets to a large extent. Along the line, the quality of the work also gets compromised. The customers are left hanging with limited choices. Megha asserts, "We provide our customers with more than 1000+ types of designs and finishes. Our factory finished furniture is made using German machinery and high-quality materials, where we create customized products to suit the design aesthetics of the residential and commercial space.
Adding to this, Atul says, "To ensure customers understand the quality of the material. We provide 5 to 10 years of warranty depending on the range of products as this builds trust among the customers to rely on our service and gives an edge over others. Also, we provide one-year free maintenance and lifetime support for our clients."

Optimizing Designs – A Game Changer in the Industry

Enthralled by on-time project delivery methodologies, Decor Dreams is known for executing projects within 45 days. "We have completed a few villa projects within 60 days. Generally, these kinds of the project takes4 to 6 months time," says Megha. Most importantly, the company has tied up with the leading brands for securing the raw materials.

Few of them include Hettich, Asian Paints, Green Ply, and Merino among others. "We are procuring the products directly from the manufactures. This helps us in providing the cost-benefit to our customers, and keeping the price on lower side," mentions Atul.



Décor Dreams has opened unique Experience Centers in Bangalore and Pune, where customers can visit to get the look and feel of the product/designs before placing the order. Customers can also experience Live design sessions and video walkthrough in their house using Virtual Reality.
Enthralled by on-time project delivery methodologies, Decor Dreams is known for executing projects within 45 days
Over the years, the company has executed more than 150+ projects to premium residential and commercial builders like Brigade, Prestige, Sobha, Mantri, Salarpuria, L&T and more. "It really feels good, when people visit our house just to refer our interior work," remarks Vishal Gaonkar, a resident of duplex Penthouse in Mantri Webcity.
Growing 100 percent YoY, Decor Dreams has had an exceptional growth. From a two-member team, the company has grown to become a 25+ member team. Based in Bangalore, Decor Dreams currently has its presence in Pune & Navi Mumbai. In the years to come, it has plans to expand PAN India. Atul discussing the future roadmap ahead of the company concludes "In the next 3 to 5 years, we will be targeting to achieve 100 Crs in revenue. We will remain ubiquitous in the space as one of the leading interior designing companies in India."