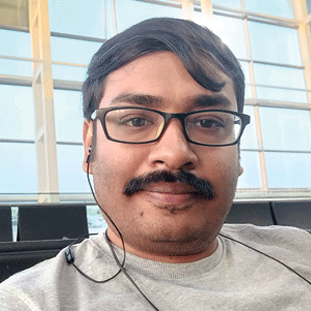 Simon Roy, Co-Founder
Simon Roy and Arvind Kumar Chinniah - two good friends and fellow developers met about seven years ago at Thought works. Never did they dream that life would take them together on a long journey to the abyss of the unknowns. Having worked on complex engineering problems involving high scale and data volume across the globe mostly in the retail domain, it felt awesome to have come back and built something for India that plays to their strengths. In their many years of experience, their main observation was that enterprise software lacked commonsense, autonomy and most of all responsibility. They narroweddown to a solution. Eventually, they met Kumar Vembu, CEO, Gofrugal, associated with him and began working on the solution – something that would simplify the user experience. "It was pretty clear that retail teams were struggling with people issues rather than core business, change management rather than customer focus. The market was showing signs of readiness for a product that can be responsible and autonomous. This inspired us with confidence that what we envisioned is something that is truly required by our end users. And this was the starting point of Delium," speaks Arvind.
Delium leaves no stone unturned to help retailers be more efficient with their investment capital, reduce recurring planning time and empower retail business teams with data to back their decisions and relations with external vendors. "We have helped some of our initial customers to cut inventory by at least 15 per cent, reduce reorder planning time by 90 per cent, cut wastage due to expiry by more than half and improve sales by 2-5 per cent. Delium is not a replacement for a business' POS/ERP/DW but rather an autonomous digital presence that the business team can converse and interact with," says Simon.

" Delium has helped its initial customers cut inventory by at least 15 percent without affecting sales, reduce reorder planning time by 90 percent"

Delium's data study platform (peekaboo.delium.io) helps a business look before it leaps. Delium's The Eye helps self drive some of the core functions in a retail business. As an overall experience, The Eye plans out the day with an action plan already formulated for teams to start with. The Replenisher integrates into the reordering department, learning from historical data from the business's past and setups a continuous plan that it can either execute autonomously or work with a human team member to review and execute. The Merchandiser, the digital category manager, analyzes product mix, auto interprets brand ladders and decodes customer baskets. Finally, The Marketer decodes customer spend patterns, potential and preferences and creates possible customer segments to target marketing effort. "Then
comes the
The Think Tank
that builds conversations with The Eye using Natural language, perform What-If on purchase decisions or build dynamic reports based on different datasets, dimensions and your imagination just in time and in context. Conversing with the system would be no different from talking to another human. The personas and algorithms are currently targeted to standalone and chain supermarkets of all sizes that are troubled with the problem of data scale," he mentions.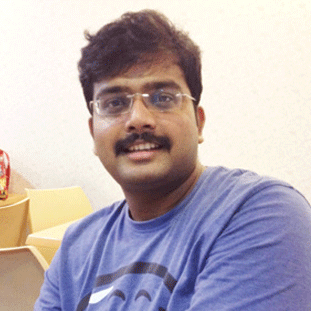 Arvind Kumar Chinniah, Co-Founder
Making it Happen!
The past couple of years have made it clear that machine learning based products that are autonomous and enable outcome driven engagements is the actual disruption that AI revolution promises. The era of such products and engagements are going to be defacto by the end of the coming decade. With the long term vision of putting a cognitive digital presence in every business, the coming couple of years are going to see Delium focus even more on customers and expand our community - partnerships with like-minded retail technology and functional companies both at home and overseas.