Once in a lifetime, all of us reach a point where we feel like freeing ourselves from the norms and embark on a new journey. But only a few possess the courage to actually capitalize it. One such inspiring story is of Purva Sinha and Tarang Agarwal, the best friends-cum-colleagues who eventually turned out to be excellent business partners and are now soon going to be life partners. Having worked across many fashion brands at managerial level, their last stint together was with an E-commerce brand. Over a 'just another' normal conversation on what's next, the idea to start something creative clicked them. Hitting their head hard on and figuring out that they hailed from the families of Designer and Artist, the turning point in their life came in. They decided on promoting the Indian handcrafted and hand-made designs worldwide with giving a modern twist to the traditional art. This gradually led to the establishment of Urbantaga- an online brand that deals with pure handmade and handcrafted collection for home decor and apparels.

"A beautiful hand-made design or work is irreplaceable. But in the recent years, the rich Indian heritage and traditional industry has started losing its charm as machine made products have gained immense popularity. To keep alive the rich inherited culture and transform one's house into the work of an artist, we came up with Urbantaga," says Purva Sinha, CEO, Urbantaga.

Gurgaon and Lucknow based Urbantaga enables discovering an extraordinary experience. Right from decor, sculpture, art pieces to furnishings - all are synchronized in complete harmony, connected by a symbiotic bond. Apart from their own website, Urbantaga is also available on major marketplaces. With a team of 25+ members, the company deems to be one of India's first online brands that promote the Indian culture, traditional belief and art both nationally and internationally.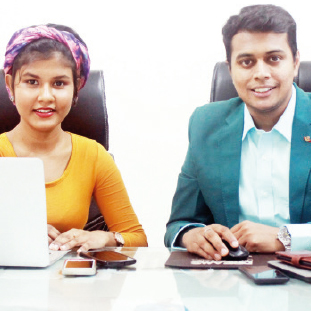 Purva Sinha, CEO & Tarang Agarwal, COO
Looking forward to collaborate with retail stores in major metro cities and in International Market, Urbantaga also has a plan to open its flagship store-cum-cafe to exhibit home decor and apparel products in coming years
Enriching Art, Glorifying Culture
The target audience of Urbantaga are those who are interested in art and know the value of it. For such art enthusiasts, the platform offers a plethora of quality home decor products that perfectly holds the distinctive blend of modern and traditional craftsmanship. Purva avers, "Our product creation involves innovative designs, long-lasting durability and a fresh concept. Complying with the norms of Vaastu and feng-shui, our product showcases versatility in terms of beauty, form and style."

Team Urbantaga firmly believes that nothing can really substitute a Handcrafted product. At Urbantaga, no product is a replica of another. Focused more on quality rather than quantity, the platform tries to implement its own handcrafted design and leverages the best right from ideation, customisation to execution of the products.

The company's key highlight has been its Apparel section as well.The designers weave in the embroidery design of chikankari art in men's denim and khadi shirts combining it with latest fashion trends. "We are the first brand in the world who is doing Hand Chikankari on Denim Fabrics. Having launched 15 designs in 2016, today we have more than 150 products to offer in apparels," says Tarang Agarwal, COO, Urbantaga.

Since inception, the journey of Urbantaga has been an enthralling one. Started off with 30 products, at present has more than 250 products. Urbantaga is also present in retail stores of Hyderabad, Lucknow and Gurugram. The platform also has a plan to open its flagship store-cum-café in coming years. "Enduring zero percent return, we strive to expand our operations in home furnishing segment with inculcating chikankari art in home decor products. We are also in-talks to associate with a few international stores in United States and United Kingdom," concludes Tarang.