How to use social media to drive engagement for B2B companies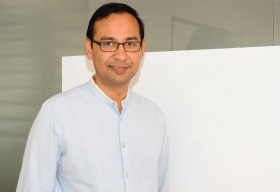 It has become an inseparable part of our daily lives, sometimes even to an extent of addiction. So what does this means for marketers? Just take up your product, package it well, create a story and content around it, show up on social media and start a conversation at a wavelength only audible to your desired audience. Sounds perfect when the audience is the end consumer of that product or service but what about when your customers are organizations and businesses? How can you engage a company on social media? Why would an individual engage with your brand when they don't intend to use your product themselves? How can you create a buzz around a product which could be used by only a small percentage of the online ecosystem?
These questions hit hard when you are a B2B marketer. Should you just strike off social media from your marketing mix or maintain a minimal presence with halfhearted efforts so as to avoid questions from your management or should you really devise a real strategy around social media to reach out to your intended audience, engage them, build your brand or even generate sales.
To understand role of social media in B2B marketing, let's recap how B2B buying works. Broadly speaking, there are six roles in a typical organization when it comes to B2B buying, namely-
• Initiators-
Who suggest what (product) to purchase
• Influencers-
Who affect the final decision (which brand to purchase)
• Deciders-
Who decide on the brand and suppliers
• Buyers-
Who are responsible for the contract
• End Users-
Who finally use the purchased product
• Gatekeepers-
Who control the flow of information
Without going into any details, it is safe to say that these six (discrete or overlapping) personas in your target organizations are on social media. Now its upto us, the marketers, to reach all or any of them to tell our brand story and engage them.
Below are a few ways that a B2B marketer can employ to engage their customers & prospects on Social Media-
Create quality Content
There's plethora of quality content around products and brands catering to B2C categories while not much has been done when it comes to a B2B product. Work upon this gap to cruise past your competitors. Create blogs and videos; publish whitepapers and articles to let your audience know that you know your subject. Talk about new developments in your product/service as well as in the industry as well. Organize webinars and podcasts for your customers to resolve their queries.
While creating content, always keep in mind the consumer. If you are targeting the decision makers of organizations, talk about big picture and value creation, when engaging the end users, talk about the ease of usage and convenience through your service and so on and so forth.
In a typical B2B transaction setup, getting the right people to hear you and building a long lasting relationship with them might require a lot of efforts; social media has no such bounds
Reach out to the right people
Social Media has over 2 Billion users worldwide but fortunately for B2B marketers, getting only a handful will do the job. Unlike B2C brands, they don't have to engage everyone they come across. So choose your prospects, tell them your story and start a conversation.
Build Relationships
LinkedIn is an amazing platform when it comes to building relationships with new or old customers. In a typical B2B transaction setup, getting the right people to hear you and build¬ing a long lasting relationship with them might require a lot of efforts; social media has no such bounds. You directly contact the higher management or decision makers, understand their challenges and state the values you provide. Even after subsequent transactions, getting in touch with these people helps maintain the right communication channel.
Humanize your Brand
Social Media may not contribute much to lead generation or sales but still is extremely crucial for B2B companies. Here's why - Let's say a client is looking for a service. They look for probable vendors through multiple sources. They shortlist two vendors A & B and are in a dilemma as to whom to finalize. Now the decision maker, a human, searches the shortlisted vendors on Facebook and LinkedIn. The probable A has no presence what so ever on both channels while the vendor B has a well maintained FB page & LinkedIn profile, interacts with the followers very often and is always happy to help out its customers & prospects. Now the decision maker would have no doubts in going forward with B as their suitable vendor. B earned the trust before even doing any business.
Social media in a way augments your physical efforts to keep your audience engaged. You can't be present every where nor you can show your value to a prospect without transacting, but if your brand is active on social media your prospects would feel safer to do business with you.
Be at the core of conversations
As a B2B marketer, getting a group of people interested in a service that you provide, in one room, is no less than a dream. Social media does exactly the same for you. List down the groups & forums where people are talking about the industry you are in or the problem you solve and be part of the conversations. Even though you refrain from selling your product directly, the audience will see you as an expert and will always prefer you when it comes to making a choice.
Social Media is a new form of social validation. It remains true even for marketers, be it in B2C or B2B setup. When it comes to engaging your B2B customers,the rules might not be the same as in the case of B2C but through some adaptations and targeted approach much can be achieved. Marketers are better off embracing it than ignoring it.