India's Historic Move Towards A Cashless Society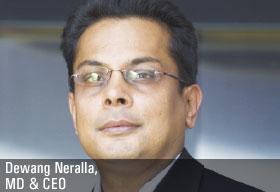 Headquartered in Mumbai, Atom Technologies is a leading Fintech company offering solutions across a wide array of areas that include IVR & Internet payment gateways, Mobile payments, QR based payments, International payment gateway, POS machines, and Card swipe machines.
Cash has always reigned supreme in India. The Indian public has primarily resorted to cash to fulfill their consumption requirements. One of the primary reasons for this late adoption of digital payments was the late introduction of digital money to our country.
India was introduced to digital money in 1980 when the Central Bank of India launched the country's first-ever credit card. From there on, it took a good seven years for the introduction of debit cards into the Indian system. The first point of sale (POS)system also got installed in the 1980s, however, it became popular with businesses only after the rollout of the Internet in the late 1990s.
While the benefits of digital payments were getting recognized slowly and steadily, it started gaining popularity among the well-heeled and most of the payment methods such as POS, Internet, IVR as well as prepaid cards have been in existence for over a decade, the reality remained that the majority of the population still loved to deal with cash. Therefore, the need of the hour was a big bang push by the government - a drastic step which would drive the economy from being cash-dominant to less-cash.
What followed was on November 8,2017,our honble PM making a live public announcement banning the usage of currencies in the denomination of Rs. 500 and Rs.1000. It made many people aghast. Demonetisation, as this was later termed, was a big blow for the cash economy as merchants, who were accepting only cash, feared losing all their businesses.
As we now complete the first anniversary of this historic announcement, let us pause for a while and look back and analyse if the Indian economy has really gained over the last one year, did we really take a giant leap towards the future or has 'demonetization' rendered a big blow to our ,burgeoning economy.
As I see, November 8, was just the first step towards driving our country towards a
less-cash society. What followed was a slew of government measures and initiatives that would provide succour to the disadvantaged. Removal of debit card fees and promotion of e-Wallets were among the many measures. As the merchant population clamoured for more and more POS terminals, the government announced an ambitious plan of setting up over a million POS terminals in a space of three months.

One of the major benefits of demonetization has been the entry of many new Indian and foreign players. This has intensified competition and has provided consumers with enhanced choice of payment methods. The key to evolution is innovation. Over the last one year, we saw India Inc. coming up with various innovative products which boosted the ease and convenience agenda of the common man. We have seen multiple banks launching Unified Payment Interface (UPI) based payments and our PM launching the BHIM app and Aadhar Pay. This, indeed, has been one of the most defining and transformative periods in India's recent history.

What use is of a new technology if it isn't convenient?
Interoperability or the ability of different systems or software to connect with one another and exchange information, here played a critical role. With the launch of interoperable payment methods the convenience quotient has been increased manifold. Here again, government played a key role with the launch of Bharat QR Code. With RBI setting the guidelines for interoperable mobile wallets through UPI in the next six months, I think we are well on course for more ease of payments and more innovation.

In the last few months, there has been much noise about cash coming back into the system and the sustenance of digitizing payments taking a hit as a result. While India has been monetized over the last few months, trends clearly indicate positive growth in digital payments across all the channels. One of the growth drivers have been the non-metro cities or the Tier II and III cities. We have seen huge demand from cities such as Varanasi, Lucknow and Pune, where other wise cash has been the preferred and prevalent payment mode. Among the sectors which have shown a sharp inclination in adopting digital payments is education. Right from schools to higher educational institutions,all are keen to get digitized, not only for fee payment but also for payment of hostels, canteen food and so on and so forth. The major impetus in this regard was provided by the HRD Ministry, which in June mandated all universities and higher educational institutions across the country to ensure that no fees payments are made by students in cash mode from the upcoming academic session and strictly resort to digital mode of payment. Furthermore, structural reforms like the GST has in fact given the much needed boost to the digitization initiative. It will be difficult to make cash deals anymore with digital trails of every transaction now. While we haven't seen any slow down owing to cash in the system, we are sure that even if there is any lag or slow down, it is just temporary. Following India's footsteps, Venezuela also implemented demonetization, however, the end result was disastrous. In a country as massive as India, to adopt demonetization and reap such benefits over the year is indeed a commendable effort.

Going forward, I think the two major technological advancements which will drive the industry are Artificial Intelligence and Machine Learning. AI and ML will transform the overall generation of payment technologies right from analytics to on demand payment processing aside to changing the shopping behaviour. It will help study the consumer patterns to rollout better financial products for them.

To summarise, globally, this is one of the most exciting times for fintech, especially payment processing. My belief is that India would take the lead in leap frogging the global community for payments technologically, whether it is instant payments or anything else.