International Premium Brands In India - Journey & Perspective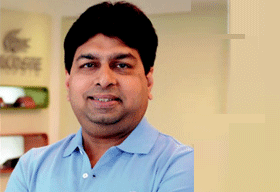 Since 1933, the LACOSTE brand has built on its genuine sporting roots. It offers a unique and original universe through a wide range of products for men, women and children.
We often talk about International brands and their perspective towards India as a market (after all, we love to fall in love with international brands). But I (perhaps echoing the thought process of millions of fellow Indians) would like to emphasise that it is rather the other way around, i.e., it is India's perception toward International Brands that changes International Brands' fortunes and (consequently) their perspective of India (how rude and un-parliamentary but how patriotic). To prove my point (well everyone has to prove one's point) I would take a leaf (a small one) out of history and would talk of early nineties (couldn't go beyond this as perhaps the concept of International Brands itself was rarely talked about, before that period, in India). At that time, there were very few international brands and fewer premium lifestyle international brands in India.
Customer base was small and was further limited to a particular category for most of the then present international brands. This was International Brands' perspective of India then (May I share a well-known secret market was indeed small).
The exposure to global markets and international brands created a paradigm shift by the next decade. We suddenly became one of the largest nations with computer literacy and started teaching the World (I guess, assisting would be a more appropriate word) on how to reach new heights in technological advancement and innovation. The erstwhile most dreaded disadvantage for the country, namely, "population" actually became the most treasured asset and prized possession, which turned the country's "isolated third world country" status into a brightly shining future with one of the youngest and educated workforce (Didn't they teach us, "every cloud has a silver lining"?). The disposable income went up dramatically (I can recall of pittance we used to get till late nineties and still considered that as a fortune). Today the Indian customers are global citizens with great aspirations in life. The brand consciousness and brand affinity are touching new heights
every day. Knowing this, despite the economic slowdown the international brands are committing to enter India like never before.
Not only does the brand promise build a cult following, it also helps retain those footfalls in stores and get them to come back again and again
This has also completely changed the perspective of International brands' towards India. Strategically India, now, is a very important country for most International Brands (with great potential for future). The growth is unprecedented. But I can assure you that nobody can take this growth as given and it doesn't come easy. Indian customer today is a hybrid generation ( please allow me to explain this). They value
India's rich cultural tradition as much as they value the new lifestyle. And you cannot take this customer for granted (Actually, you cannot take any customer for granted). From an international brand's perspective, Indian consumer, while continues to experiment, will always
May I also add that, it would be incorrect to consider India as one market. This huge subcontinent is actually a mix of many varied markets with different cultural, climatic and geographical nuances (Have you ever wondered why white has higher off take in Chennai? Or how north responds very quickly to new categories?). India, in most respects, does not correspond to any other market in the World. So what works in this unique country?
What works in India?
Taking quality as a given, the following factors genuinely help:
- Understanding for various regions & psychographics
- Analyze data
- Hear and act upon what the consumer says
- Ensure great customer service & relations with local touch
- Ensure that distinctive Indian warmth
✓ Quality > Retention/Loyalty
- Retention is not isolated. The current generation is an influencer to the next. And this cycle can continue to patronize you if you innovate and continue to deliver the brand promise.
Even after having understood and delivered on the above, the brands have to have a long term goal rather than a short term quick money perspective.
This perhaps is the perspective of most International premium Brands on consumer side.
If we look at the challenges, there is no dearth of it. Amongst many, the biggest challenge an international premium lifestyle brand faces today is the scarcity of premium retail locations at right price. The cost of retail developments is as high as any other part of the World and yet you cannot have the international pricing for your products (The Indian pricing of most international apparel merchandise is one of the lowest, if not the lowest, in the World). This hits the bottom line very hard. The rupee devaluation hasn't helped either. But all these challenges are part of the game (alas!)
To summarise this I would say that India is a great country with huge potential for quality products, which if delivered with good shopping experience, will continue to shower its blessings.