Start-Up Scenario and Current Trends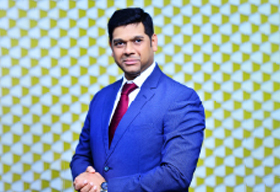 Headquartered in New York, Vertoz is a programmatic advertising company that offers engaging and innovative advertising and monetization solutions by replacing the traditional methods of media buying and selling of advertisement.
The rise of a Start-Up wave in India is a relatively new phenomenon. India is today experiencing a fundamental shift in entrepreneurship & development being essential catalysts in job creation and solving everyday problems. A decade ago, there used to be just a handful of Indian Start-Up success stories such as MakeMyTrip.com and Naukri.com. But now, with successes such as Flipkart, Quickr, Practo, and Zomato, the Indian Start-Up Ecosystem has undoubtedly come a long way.
This trend of start-ups is truly picking up in India and the scene is just expected that would get significantly more focused in the upcoming years with a large influx of online companies all over the country. It's all because of the government's numerous active programmes such as the Startup India and Make in India. And, visions of Prime Minister Narendra Modi, a nation where its youth stand up on their feet and become the job giver, not the seeker. Just to mention, 65% of the population in India is below the age 35, enough to suggest the country has the arsenal, the main thing it needs the direction to fulfil their dreams.
The internet has laid out a level playing field for start-ups to develop and compete with their more illustrious peers, with students, engineers, accountants, business professionals alike gracing the entrepreneurship battlefield in India. And the people have gradually started to grasp this new wave of entrepreneurship that is hitting the market as well.
The environment of entrepreneurship in the world's biggest democracy has enhanced so drastically, it was difficult to think someone picking entrepreneurship as a profession to live and earn in India. These days,entrepreneurs are all over the place, from IT sector to manufacturing; try
their hands on ambitious projects with a zest of confidence and immense trust in their abilities.
The Startup-ecosystem in India has seen a moderate growth last year. However, an introduction of GST and Make in India initiatives, have given a momentum for change. Indian Start-ups are preceding onward the upper line and is expected to increase in the coming year.
While each idea discovers its way through the underlying issues pertaining to space, expansion, and investments; startups today are monstrously blessed to have amazing opportunities to network
According to the recent report of NASSCOM shows that the start-ups and entrepreneurs are increasing. And India is said to be the third largest host for startup-ecosystems globally. It is measured that India houses around 4200 start-ups, creating more than 85000 employment opportunities. With over $5 billion worth of investment in 2015 and three to four startups rising each day. It is anticipated that the number of Start-Ups in India will increase to more than 11,500 by 2020, with job creation from these entrepreneurs reaching 250-300k by 2020. The number of Investors has like wise raised multi-fold in a previous couple of years.
Entrepreneurship is a game of patience, persistence, and diligence. While each idea discovers its way through the underlying issues pertaining to space, expansion, and investments; startups today are monstrously blessed to have amazing opportunities to network. Stories of achievement motivate the youth to act and work to bring their own ideas to fulfilment. India's entrepreneurial scene seems to be better than ever. Government and international organizations alike are investing in innovative ideas. The ideas of co-working spaces or incubators, to accelerate the start-ups by giving monetary and infrastructure support are given a decent push to the system. Start-ups are likewise making good use of the facilities available and are showing a sign of good times.
Indian startups have experienced numerous developments in the second quarter of 2017. From being chosen in the Google's accelerator program, to raising funds from the Chinese investors, the startup ecosystem has been very reassuring. Google has shorlisted six Indian startups for the accelerator program in July 2017. Startups utilizing latest technologies such as machine learning and artificial intelligence have been chosen for the same. Government initiatives are predictable to play a key part in the startup ecosystem's bright future. For example, the commerce and industry department of the Indian Government is planning to arrange a South Asia regions' meet of startups for trading new ideas and increasing interaction among them, in this way showing trust in startups.
Therefore, startups are currently concentrating on cutting losses, increase their overall valuation, and achieve operational excellence. These qualities alongside the positive feelings of the investors and support from the government will make the startup ecosystem of India achieve new heights soon in the near future. The startup culture needs a platform that unites together various startups and investors to analyze, evolve, learn and unlearn.