2018: Top 3 Technology Interventions that cannot wait till 2019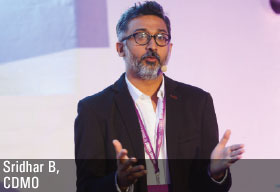 London headquartered Diageo is the world's leading premium drinks company, a business built on the principles and foundations laid by the giants of the industry.
A boy asked his dad for 1 Bitcoin for his birthday.
Dad: What? $15,554?? $14,354 is a lot of money! What do you need $16,782 for anyway?
This twitter joke sums up the tumultuous valuation of crypto-currency in recent weeks. More importantly, it throws a preview of the technology infused world that's disrupting traditional business models and how organizations need to adapt in this new environment. In the above instance, it's the position of central bank authority that is vulnerable.
So,what's happening around us? The rise of digitally native vertical brands(DNVB),lethal strains of private labels, chilling pressures on profiteering margins and the emergence of market place platforms, has demanded Digital Transformation to be a Board-room agenda across CPG companies.
Digital Transformation is not about listing products in e-commerce sites or building one's own omnichannel store. That's akin to 'whack-a-mole' game at the local fair. It's about radically changing the very ethos of organizational behavioral mindset and deploying technology at the heart of the process.
2018: Top 3technology interventions that cannot wait till 2019 and are important work streams to be monitored and reviewed periodically are as follows:
(1) Giant Leap of Artificial Intelligence
(2) Business-side application of DLT or Blockchain
(3) Data Privacy and Governance
(1) Giant Leap of Artificial Intelligence(AI)
We are witnessing a mercurial rise of AI since its early prematured birth in mid -1980's - then referred as 'Neural Networks'. We now live in a connected world of smart homes,cities, cars,social media and mobile gadgets. What has changed is the amount of data and thus the requirement of gigabyte computing power. As there is data there will be a need of AI. Every aspect of organizational operations can benefit from AI- commercial, marketing, supply and HR. This year nobody will question whether to use AI or not. The big question is: How to use AI?
According to a latest survey by BCG and MIT Sloan Management Review nearly 63% of top executives believe that a strategy for AI is urgent and nearly half those see this as a business productivity opportunity.
But at the same time, we will witness a lot of start-ups spark off business ideas through AI. E.g,Dunzo, a Bangalore based hyper local err and app, deploys AI to fulfill 300,000 tasks/month. Imagine,a fashion retailer opening a new franchisee outlet, not based on an upcoming new mall at high-street but based on internal data,competition sales, locational attributes, traffic stats and demographic.
"India would not be far behind to set this bill in motion. With the holy linking trinity of Aadhar, Jhan Dhan, and mobile, data privacy and protection will be of critical importance"
(2)Business side application of DLT or Blockchain:
While the immediate use of Distributed Ledger Technology or Blockchain, is with the banking, finance, insurance services category, there are immense scope of benefitting from DLT across media, entertainment/content. This is the single most significant shift happening to online publishing since the evolution of Internet. Publishers and marketers need not get overtly hokey over their content being plagiarized, spammed and illegally distributed. In addition, since the advent of Donald Trump's presidency through GOP, Fake News is, unfortunately the new normal. Blockchain can help limiting this menace time stamping the original content and ensuring rightful monetization across the funnel.
While still at its infancy stage for content, there are a lot of promising start-ups who are scaling this technology. Poex.io is an online service that verifies the existence of files, anonymously and securely stores online distributed 'proof of existence' for any document. How's that?
Major OTT platforms and big production houses like Hotstar, Yashraj Studios, ALT Balaji, will surely be looking at this technology to retrieve control over their content and fair monetization. So would CPG firms who are over-invested in media and content creation like my company DiageoPlc.
As owners of Royal Challenge Bangalore(RCB)cricket team we create a lot of exclusive content-Chris Gayle and Virat Kohli being natural content creators; put them in front of the camera and boom! But is this being rightfully commercialized? We have witnessed our content overtly plagiarized by nondescript news channels for their gains. There is a solution through Blockchain.
(3)Data Privacy & Governance:
A callow marketer is over-thrilled by the vast amount of accessible consumer data. Through programmatic media, he is able to personal target users in the right context. Why bother about alcohol ads in the morning when it makes sense to target post office hours. This, however, compromises user's privacy.
Come May 2018, the European Union will enforce the GDPR(short for General Data Protection Regulation)-the brand new privacy law that will make collecting and handling personal identifiable information supremely complicated. Privacy and therefore ownership of one personal data is fundamental human right.
India would not be far behind to set this bill in motion. With the holy linking trinity of Aadhar, Jhan Dhan, and mobile, data privacy and protection will be of critical importance.
The cost of data breach is stiff. If any of the GDPR rules are violated, fines can be upto $24m or 4% of global turnover, whichever is greater. No wonder, The Economist magazine refers this as the "Dodd-Frank Act of data"
But a technology solution is brewing. With the rise of Blockchain, teams are working on new idea called Zero Knowledge Proof(ZKP)to proffer trust based ownership without revealing all. 2018, will surely be a Year of Transformation for most the CPG giants. The change anticipated wouldn't be exponential like the Bitcoin but definitely there needs to be a start. Meanwhile, the Bitcoin remains in the volatile state with the world divided on the future.