Being an Effective Manager is what all Counts!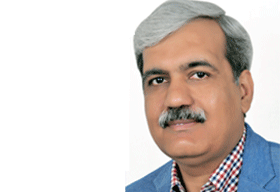 The digital arm of The Times Group, 1999 established Times Internet has been instrumental in transforming India's digital landscape with its wide range of innovative products that inform, entertain & enable users globally
One of the hardest and most challenging transitions for me was from being an individual performer to a people manager. As an individual, life was simple. I knew what my manager and customers wanted. My passion to win always overcame any obstacles and propelled me to deliver results. I would often have to learn new skills/concepts or seek help from others but that came naturally to me, as I was always clear of my responsibility and was aware that delivering results would make me win!
I was then made to lead a team of 4 and life completely altered. I was a first-time manager to a team of 4, and it was life changing to say the least! Each of them had their own world view - with different perspectives, different motivation levels and ambitions. Life suddenly seemed out of control with many fires to fight. Things would fall between the cracks and every member of the team had a valid explanation for it. And there I was facing the brunt of my customer; something I had rarely experienced as an individual performer. I realised one size won't fit all - I tried quite a few things…I started becoming prescriptive, started micromanaging, used authority to penalise but to no avail.
Over the years, I learned a few lessons in managing teams that served me well and eventually helped me manage and lead organizations of over 1000 people. Here are 3 of them:
1. Treat People as People:
Every individual has their own aspirations and challenges which shapes their perspective. One has to learn to respect all of them. Being a manager is a special opportunity to give oneself grace of cultivating an environment of respect, trust and empathy in their teams. I came across the simplest and most effective way of building trust in the book titled "The Trusted Advisor". It states that Trust = (Credibility+Reliability+Intimacy)/self-Orientation. Credibility relates to one's expertise, reliability to one's dependability, Intimacy to one's emotional relationship. Self-Orientation is the motive to focus on personal interest and is inversely correlated with trust.Unless a manager is able to create a powerful context of relatedness by clearly articulating who is she for the team and who are the team members for her, team's results will only be mediocre.
Micromanagement never drives superlative team level performance,on the contrary it can burn out the manager fast
2. People Don't Change, Their Mind Set Can:
It is futile to change people's behaviour. Being prescriptive is equally sub optimal. Micro management never drives superlative team level performance, on the contrary it can burn out the manager fast. Every person sees life situations differently that defines their mind set and eventually their actions. A Manager has a leverage - by creating an over arching vision that motivates& inspires people. A compelling vision brings alignment, changes mindset and invites people to participate in and create unprecedented results for themselves and the organisation.
3. Everyone Wants to Win:
Sometimes managers forget that their team members joined the organisation to propel their careers. It is a normal human tendency to win. However, once on-board people are not clear what would make them win and they get disengaged. A Manager should repeatedly communicate the mission of her team and how it connects with the larger vision of the organisation. She should design the mission as simple as a game and articulate what success would look like: what are the expected outcomes, how would it be measured? She should agree on how does the team want to play the game and what training and support do they need. She should have specific conversations on actions to be taken and by when and finally have a structure to monitor it.
Once the agreements are in place, let the team be. Let them determine their path to win the game. This way they would play on their strength and leverage their talent.
Although my transition to be a manager wasn't easy but journey was surely worth it. It is such a privilege to contribute in so many people's lives and see your team members achieve great heights.