Construction & Mining Equipment Industry - On the Cusp Of Disruption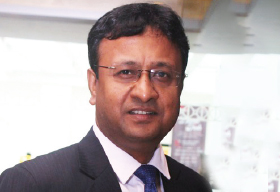 In certain cases, the impact of these technologies is so widespread and disruptive that it has brought about robust changes across the industry within a short span of time. Over a period of time, these disruptions and trends have the potential to leave substantial impressions on the industry, as well as on day to day operations of individual customers. For example, with the arrival of online marketplaces, the process of buying and selling of passenger cars in India, as well as the customer behaviour has undergone a major change. Construction & mining equipment space is also leveraging similar platforms & technologies and
replacing the incumbent 'Physical to Delivery'channel with the new 'Digital to Delivery' channel- an omni-channel for all CME related transactions & services.
Today, digital marketplaces have directly connected consumers with suppliers and made the process of demand (and supply) discovery extremely easy and convenient. A number of start-ups are adapting and replicating this marketplace model for the CME space - with varying degree of success - and are thus helping equipment owners connect directly with potential buyers and project owners. These digital distribution methods are creating huge information highways that help service providers identify and reach out to potential customers more quickly and efficiently. These process optimizations will in-turn lead to changes and improvement in delivery of value-added services like financing, valuations, logistics, etc.
Construction & mining equipment space is leveraging technologies and replacing the incumbent 'Physical to Delivery' channel with the new 'Digital to Delivery' channel
As pointed out earlier, IOT - internet of things - is poised to play a major role in improving asset performance and output, while minimizing break-downs and idle time. With more and more OEMs realizing this - almost all new equipment and vehicle have pre fitted sensors and tracking devices. Further a number of start-ups have come up with innovative and value for money devices for equipment performance tracking. As and when these devices become more prevalent, equipment owners and manufacturers will be able to track the activity, location and performance of their machine from anywhere across the globe.
Worksite management and monitoring is another associated area which is observing serious disruption owning to the advent of IOT, sensors and telematics solutions. These computer aided tools capture data directly from the equipment operating in the site and create an invincible workflow that delivers knowledge and insights through software platforms. Collaboration software designed for site management are providing large fleet owners with the ability to effectively monitor and improve processes and go beyond just 'machines' and help optimize a wide range of site management activities, including manpower, logistics and outputs. Similarly, big data solutions are aimed at increasing asset productivity and reliability in the field, while ensuring improved safety for the operators. With each passing day, these tools are moving from 'good to have' to becoming 'critical differentiating factors', there by creating immense value for industry stakeholders.
Therefore, despite ground level resistance and difficulties, technology is slowly but surely transforming the CME space - one day at a time. Together these technologies hold the potential to change infrastructure and construction industry's dynamics while driving massive efficiencies - and in the process disrupting the existing processes, practices, players and structure as we know it today.