Online Education: Transforming the Process of Learning New-Age Skills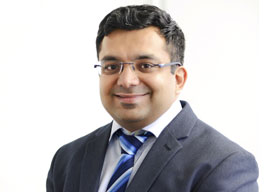 Pearson is the world's leading learning company, with 40,000 employees in more than 80 countries that aims to help people of all ages to make measurable progress in their lives through learning.
In the book "A New Culture of Learning", written by John Seely Brown and Douglas Thomas, "The half-life a learned skill is 5-years" - this means that much of what an individual learned 10 years ago is obsolete and half of what they learned 5 years ago is irrelevant. This trend is changing even further with the third industrial revolution led by new technologies.
There hasn't been a time when enterprises have adopted new technologies and skills faster. The use of new technologies is also no longer restricted to large corporations but the era of automation for efficiency and faster execution is here for every modern enterprise.
While companies look at adapting to newer and faster technologies and tool kits including Artificial Intelligence, Machine Learning, Robotics, Global Supply Chain Management etc. what does this mean for the employees performing in these areas? While a lot has been written about machines taking over our jobs – there is a ray of hope.
There are a couple of reasons for the optimism. First, machines might take over some of the mundane and repetitive work but that's happened before and has traditionally only increased efficiency for humans to move to higher quality work. Second, as Gary Kasparov has successfully highlighted in his book "Deep Thinking: Where Machine Intelligence Ends and Human Creativity Begin "it's not "man vs. machine" but humans complementing machines. Third, as Darwin might agree humans have evolved to face bigger changes before.
So, it is going to be about evaluation and constant learning. Going back to the half-life of learning, there is going to be a need for professionals to upgrade their skill-sets faster and repeatedly. For learning providers this means that the output needs to be better, affordable and easy to deliver.
To make sure that an individual can keep up with these escalating demands and
find a job that best suits their interests, one of the best ways to upskill is by enrolling in various courses found online, that cater to these specific needs.
Unfortunately, it seems that most people abandon most of these courses. For instance,MOOCs, where the completion rate of online courses that have been signed up for is just around 6%.This implies the need for an educational platform that is not only efficient but flexible as well.
To make sure that an individual can keep up with these escalating demands and find a job that best suits their interests,one of the best ways to up skill is by enrolling in various courses found online,that cater to these specific needs
These needs are being fulfilled through various emerging institutions that help provide high touch online learning services, also known as blended learning. Such forms of education can prove to beinvaluable when it comes to assisting people to upgrade and acquire new-age skills. There are two significant reasons why high touch online learning has become increasingly prominent when it comes to learning various new-age skills.
1.Just a few years ago, India was labelled as nothing more than a country with aone-dimensional pattern of torrent led downloads. However, with the advent of faster internet at cheaper rates,many content platforms have witnessed runaway success, through an ideal combination of convenience and pricing. It has convinced many people to pay for such services, provided that the experience is worth it. On a similar note, when it comes to education, people are willing to pay for the right programs that can help in achieving quality results.
2. Many working professionals who regularly work on projects need to manage their time efficiently always. For these people, trying to complete a course online might be too much to ask. Research shows that around 57% of professionals who enroll for a course have doubts about whether they'll be able to complete it in time. Perhaps it is why one can witness an increase in the requirement for courses that are accommodating in nature and can help individuals accomplish what they want with ease.
Through the application of blended learning,one can focus more on relevant and applied learning. This includes learning opportunities such as case studies and industry problems, and other relevant learning cases as well such as capstone projects and hackathons. The other advantages are:
• The accessibility for the program through any device and scalability across with no geographical boundaries.
• It caters to the diverse needs of employees on various programs and concepts.
• Cutting-edge learning technology, classroom infrastructure and pedagogical methods. The faculties are leading experts from around the world and each program is carefully contextualized to speak to local business realities.
• The programs are cost-effective, flexible, and learner-centric are aligned with business goals.
• Customized content - In many cases the programs are aligned to the needs of the corporation and combines its strength with content and provide a custom program that helps the organization build and leverage its own area of strength.