Procurement success: Effective V/S Efficient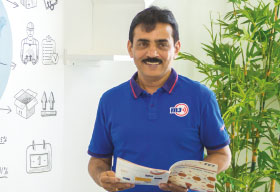 Thus, the entire value chain including procurement had to be re engineered in the Indian modern retail environment.
A Typical Procurement Scenario
Typical procurement consisted of, identifying / understanding demand, sourcing, positioning (price, margins), purchasing, managing deliveries (including prioritizing and scheduling), fulfillment and payment processing. There were numerous IT and business intelligence tools being used to predict the demand and service in the past. For example the traditional ways of Sales and Operations planning (S&OP), lead plans coupled with best-of-breed Inventory and logistics management tools provided smartness into the backend teams. However, the current situation in which, the demand or the need happens to be highly dynamic and volatile.
For example in a true Omni-channel scenario, a consumer may like a certain outfit or an apparel design, which can become an instant hit through social media. Consumers are so engrossed in the social media, sharing their experiences and merits (or demerits also) of their choice of products, an instantaneous flood of 'likes' can flood the orders into the modern retailer. Thus creating an immediate 'demand/need', this could not be predicted earlier but needs urgent fulfillment.
How to Become a Niche Player in Current Times?
The Indian market is flooded with numerous foreign fashion brands trying to gain parts of the outgrowing market share.
While the foreign brands tempt the Indian consumers with their limited and often pricy fashion products, consumers do end up aspiring for other value options available. The fashion elements within apparel, footwear and accessories have certainly reached greater heights to match-up the spirations of the modern consumer.
Embracing the latest Information technology and tools perhaps is the only way to become a niche player in the current times. There are tools available to 'browse' various social media sites, fashion retailers portals, Omni channel kiosks, fashion shows, blogger groups, etc to identify latest trends. There are also several young 'freelance''designers with curated designs, trying to openly share their unique designs and patterns with their own fan following, blogger groups and consumers. Without intelligent IT tools to capture such trends, inspirations and fashion elements, it's impossible to identify the needs and caterto.
While it is important and glamorous for many companies to talk about their products, PR and marketing campaigns, what really makes or breaks a company is their ability to sell their products to the right target customers
Along with identifying these current trends and inspirations, retailers have to be connected to their manufacturing or sourcing partners in 'Real-time'. The traditional spring-summer and autumn-winter season is almost becoming redundant for the consumer. Consumers are expecting newer designs and fashion almost every month. Number of retailers, brick and mortar and the online players confirm that the consumers are visiting stores/portals every month for fresh merchandise. Without being 'connected' via real-time IT systems such as Vendor Portals, Lifecycle Management Tools, Visual Analytics etc, it's unthinkable to cater to these needs of this modern consumer.
The Execution Phase
In the execution space of the procurement process, there are several IT applications, warehouse automation, last mile delivery excellence, etc which ensure optimum speed and agility. The entire Supply Chain from 'Sourcing to Shelves' is undergoing transformational changes. Factory gate pickups are gaining credibility; cross-docking is being taken seriously; last-mile for both B2B and B2C is being monitored with an absolute ownership and responsiveness; even reverse logistics is handled very effectively; all such activities are driven with a number of best-of-breed IT Tools.
Use of IT has become the norm for the modern fashion retailer. The good-old efficiencies at each level of the value chain are being replaced by the 'effective' customer service with 'end-to-end' accountability. Business enterprises have been quick to adapt the latest and the most intelligent technology/tools to gain market leadership as well as remain in the race. Customer service in real-time has become the mantra for the productivity. Business processes have automatically been streamlined due to the highest levels of visibility throughout the value chain. Key stakeholders including the decision makers are using 'intuitive dash boards' and analytical tools to manage their businesses. There is a great sense of 'need for speed' and 'agility' throughout the chain leading to 'lesser fat' and therefore cost optimal work processes.
This technology driven, consumer focused and effective modern retail is perhaps the best treatment what the Indian retail needed; the true meaning of 'procurement' leading to the 'direct contribution' to Profitability, through effective management of processes, people and resources.