Rise of AI and Other Trends for 2018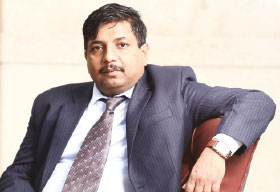 2017- A year in perspective
Much has been written about 2017 in perspective, in this article I hope to reiterate some of the key trends from a practitioner's perspective. With this I also invite fellow digital practitioners and leaders to share their views on how some of these trends are shaping up in their organisations.
Key technologies and milestones
I had recently referred to our emerging customers as D-I-S-C(Digitally Native, Intelligent, Social and Connected) that included external, as well as internal customers. Managing this stakeholder ecosystem has thrown up some exciting technologies that will take centre-stage.
1. AI/RPA
Here we will see movement away from rule engines and run off the mill automation to artificial intelligence/machine learning enabled process automation.
2. Blockchain
My emphasis on Blockchain, continues to remain that we collectively need to move away from the hype and focus on true value. The promise of trust and immutability can be revolutionary, however, this weapon needs to be aimed at the right problems.
3. Marketing Automation
With growing concerns about data privacy and spam; organisations will have to invest in innovative solutions to leverage first party data to make their targeting more accurate and relevant.
4. Employee Empowerment
I don't lose any opportunity to emphasise that your organisation cannot be digitally savvy if your employees are not digitally empowered. Some of these areas are outlined below. I hope to see more organisations investing in these areas.
5. AR/VR
Augmented and Virtual Reality are areas of experimentation that are worth considering. We are moving rapidly towards a hyper connected, data rich world. These technologies will not only allow us to target digitally active segments, but also have more meaningful and transformative offerings for remote geographies, segments with impairments and offerings that need immersive hand holding.
Rise of AI
As digital leaders, most of us have made selective investments in AI already. However, I would also urge my colleagues to consider some of the warnings from industry leaders like Bill Gates and Elon Musk to use this power responsibly.
1. It's meaning for the modern worker
While AI is the current darling for the digital teams, the reality is that many, traditionally manual operations will get replaced. It is incumbent on us to bring in the change, along with appropriate roadmaps to re skill our workers and outline opportunities for the workforce to take up higher order tasks that cannot be performed by AI at the moment.
2. Automation
A common problem that I notice with a lot of digital projects, is that, in the name of automation, there is just a replacement of paper based models to electronic form. Many of us might benefit much more by considering design thinking approaches, to conceptualize automated processes from the ground up. This has the potential to yield disruptive gains for the organisation, shareholders and employees.
3. Security
A recent hackathon featured software robots competing to hack each other. Therefore, we are now not only at the mercy of human ingenuity and cunning,
but also up against the brute computing power of algorithms. The problem will become more acute now that quantum computing is around the corner. We will need to invest in our own software security robots that are adaptive and can take on the emerging threats. Customer security will be a key area for AI/ML.
While standalone innovation can create occasional flashes in the pan, lasting value from innovation can only occur through a Business First Approach
Social Media and Productivity
Social Media is clearly a boon and bane. A boon because it grants access and interactivity; and bane because of its hypnotic ability to guzzle away time.
1. Distraction vs Value
With this perspective in mind it is important that organisations don't try and replicate social networks within their intranet. Instead, focus on how social technology and social media interaction patterns can be used to make employees productive. Only when employees are productive, can they contribute effectively in terms of ideas and innovation.
2. Using the Right technologies
To illustrate the point above, I urge organisations to consider the use of the right social media technology. Examples, sharing of random images and forwards can be replaced by in situ audits, learning and management broadcasts. Mindless chats can be replaced by intelligent messages layered on top of thin workflows. Use of bots to automate internal process to ensure that employee adoption of technology increases. These, in my mind will pay higher dividend that just deploying social media on the intranet.
3. Employee Collaboration
With an increase in productivity, I also urge organisations to re use that additional time for employee collaboration & rejuvenation. We ourselves often made the mistake evaluating ideas against headcount reduction or increase in number of cases managed. However, from experience, when ever the resulting time dividends are deployed in employee collaboration, learning and rejuvenation, the resulting ideas and quality of work is far superior.
4. Advocacy
The other dramatic power of Social Media is digital word of mouth. Customers' trust in their own network is almost 5x than that of organisation messaging. It would bode well for all organisation to leverage their employees and customers to spread relevant messages. However, this takes time and sincere effort. The dividends are high for those organisations who are willing to engage with their employees and customers in a meaningful manner.
5. Communities
I believe that a strong brand is built by the shared stories and aspirations of your fans. Very rarely do we, in the BFSI sector, invest in harnessing this potential. We allow consumer products to lead in creating online communities, without learning from them and utilising it for the benefit of our customers. This is another area that will see an increase in investment and organisation returns.
Business First Approach
Most digital leaders I have interacted with attribute their success to the close coordination with their business counterparts. It has become hygiene for organisations to have a process and culture with digital teams and product teams work together to succeed. While standalone innovation can create occasional flashes in the pan, lasting value from innovation can only occur through a Business First Approach.
1. Need for strong mapping of business use cases
Business mapping needs to become an integral part of the digital journey. Without it, we will only be reactive to business needs, with a long pipeline of pending projects. Instead, we should be leading the conversation for the next innovation that can revolutionize the business.
2. Having an experimentation budget
I love this quote by Linus Pauling, Nobel laureate-"The best way to have a good idea is to have many ideas". Therefore, an experimentation budget is critical to ensure that there is always a sandbox available for testing future technologies; with the express knowledge and mandate and it is okay if some of these experiments fail.
3. Consider Design Thinking
Here, I echo the point I made above. Investing in learning Design Thinking, especially for the digital team, will allow them add much more value to the organisation. They will be able to input into the business beyond just removal of pen and paper process. Digital teams can become true business partners.
Summary
In conclusion, I would like to say that there are some key technology areas like AI, RPA, Blockchain, Marketing Automation, Employee Empowerment, AR/VR that will see investments and interesting results. AI based solutions will mature much more and this Rise of AI will have both positive and aspects. We will also need to be stewards of this Rise of AI, so that we can reskill our workers and ensure that our organisations stand for responsible change. Supporting this Rise of AI will also need a keener look at enterprise social media tools and a business first thinking. I hope this creates a good platform for 2018.